We Power Life...as Environmental Leaders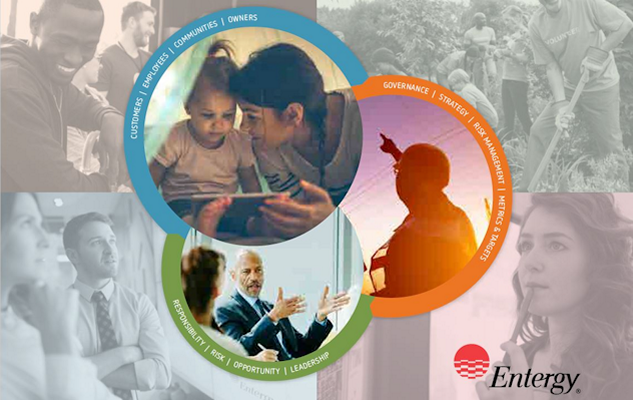 Protecting the environment is one of many ways that Entergy powers life and creates sustainable value for our stakeholders — customers, employees, communities and owners.
Entergy is recognized as an industry leader for taking bold action to address climate issues. In 2001, we were the first U.S. electric utility to voluntarily commit to stabilizing greenhouse gas emissions. Since then, we've challenged ourselves even further and set stricter reduction targets — not once, but twice. In 2011, as part of our Environment 2020 strategy, we committed to maintaining our cumulative emissions cap for the period at 20 percent below year 2000 levels through the year 2020. As of the end of 2018, Entergy is outperforming this goal by 8%. Learn more about Environment 2020 by exploring the links at right.
Looking ahead, Entergy has announced a new emissions reduction goal for 2030: Entergy will reduce its emission intensity by 50% from our 2000 level by 2030. Emission intensity is measured by the pounds of CO2 produced per megawatt hour. This means that for every unit of electricity Entergy generates, we will emit half the CO2 that we emitted in 2000.? Learn more in our new climate report here.
Our carbon dioxide emissions are some of the lowest among our peers as indicated at the Environmental Footprint link at right and?here.
Entergy voluntarily reports its sustainability performance, actions and goals, including ESG measurements, using a new reporting mechanism. In partnership with the Edison Electric Institute, Entergy helped develop a new means to report sustainability goals and actions. The EEI ESG template helps EEI member companies provide more uniform, consistent metrics for investors. In 2018, Entergy was the first U.S. utility to report its ESG qualitative and quantitative information using the new template. This year's quantitative and qualitative reports are available at entergy.com/sustainability.
For 17 consecutive years the Dow Jones Sustainability Index, a global measurement for environmental, social and governance responsibility, has included Entergy on either its World or North America index or both. Entergy's Global Reporting Initiative disclosures align with GRI standards and can be found?here.?Current and past performance on key sustainability indicators can also be viewed on our?Performance Data Table?and our?EEI ESG template.
Entergy aspires to be an industry leader in protecting our environment, and we expect our employees, agents and suppliers to provide goods and services in an environmentally conscientious manner. Entergy has an enterprise-wide environmental vision and policy for employees, and our Suppliers' Code of Conduct sets forth expectations regarding environmental responsibility for suppliers and vendors.
Clear Commitment and Comprehensive Strategy
The documents above are provided for informational purposes only and are not intended to add enforceable legal or regulatory requirements. The documents do, however, include additional performance expectations adopted by the Company.
More Environmental Resources
Protecting our Gulf Coast Communities: